3 Ways to Take Parent Engagement to Meaningful Parent Partnership
ESSA Parent and Family Engagement
Under No Child Left Behind (NCLB), educators were told to focus on parent involvementin schools. With the passage of Every Student Succeeds Act (ESSA), the emphasis shifted from parent involvement to parent engagement. While parent involvement and engagement are important, research shows the greatest impact you can have in your school is through parent and family partnerships.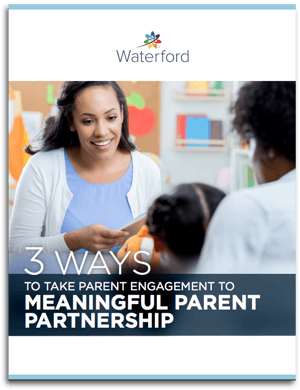 While there are many things you can do to increase parent and family engagement, taking it one step further, to a deep and meaningful partnership, can be tricky. Waterford has a guide of three tips designed to help build these partnerships.
Please fill out this form to the right receive your complimentary copy of "3 Ways to Take Parent Engagement to Meaningful Parent Partnership."

As a bonus – this downloadable also includes a one-page printout summary you can use to quickly share information with colleagues.
Download this guide and get started on building parent and family partnerships in your schools.